Hurricanes Currently In The US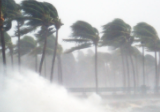 Currently, the U.S coast is experiencing several hurricanes; however, what effect has it had on our shores? Hurricane Larry is expected to hit the East coast of the US, and Hurricane Ida has already hit Louisiana, Pennsylvania, Connecticut, New Jersey, and New York. Here's the predicted effects the hurricanes will have on the US.
Hurricane Larry, was recently labeled as a category two hurricane with wind speeds of 110 MPH. It is far out in the ocean but is expected to have an impact on the US. Experts believe that East Coast beaches will have life-threatening currents. Citizens have been strongly advised not to visit beaches due to the lack of lifeguards. The increase of wave activity could potentially cause coastal flooding during high tides. The Mid-Atlantic and Northeast may be affected by potential severe thunderstorms.
Hurricane Ida is a category four hurricane with winds reaching up to 103 MPH. Hurricane Ida's death toll has reached sixty, and around 400,000 buildings have no power. Several regions of the US are expected to experience powerful thunderstorms. President Joe Biden has qualified Hurricane Ida as a disaster and released federal funds to assist with rescue efforts.
In conclusion, the hurricanes will have a lasting effect on the U.S. Too many people have died and the disasters have resulted in thousands of dollars in damage.