And the 2021-22 GMC Teacher of the Year Award goes to…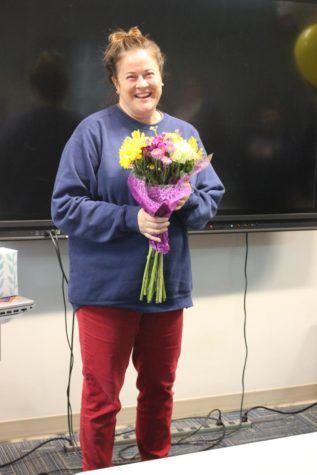 …Paula Rouse!
On Thursday, March 10th, Greer Middle College announced Paula Rouse as their '21-'22 Teacher of the Year.
Rouse, who currently teaches English II, Teacher Cadet and Service Learning, was surprised during class with the news. 
"It's such an honor because I feel like the GMC faculty is so talented, and so to be picked by them… I am just humbled," she says. 
Her journey to becoming a teacher began with a degree in English. After graduation, Rouse pursued a career in business, never picturing herself becoming a teacher.
However, after seven years in the business world, she realized she wasn't feeling fulfilled.
At the same time, there was a severe teacher shortage.
Rouse enjoyed her time teaching Sunday School at her church and contributing to VBS, so she applied for certification under critical needs.
This move lead her to spend one year teaching Language Arts and Literature at Parker Middle School in Greenville County before moving to Blue Ridge High School in 2002. She taught at Blue Ridge for a total of eleven years.
While working at Blue Ridge, she met Coach David Smith, a connection which ultimately lead her to apply to GMC. She has been at GMC since 2013.
Outside of the classroom, Rouse works planning EDUScape and Blazer Tribes events. She believes that these experiences, discussions, and memories will contribute more to a student's success than any quiz ever will.
"School is so much more than the 90 minute instruction," she says. "I look at the student as a whole."
The GMC faculty is just as proud of her as she is of them. Multiple faculty members had plenty of wonderful things to say about her.
"The kids absolutely love her and there's no question about their comfort level in her classroom. Students are eager to participate in class, and she keeps them engaged by making her lessons relevant to their daily lives," one faculty member says.
"She creates memorable learning and service opportunities for them that takes them outside of the school building to make a real impact in our community," another faculty member says. "She is an incredible role model for students and teachers alike."
Rouse's dedication to GMC is mostly inspired by her students. 
Here at The Forge, we think this award was well-deserved. Congratulations!