Senior Capstone Spotlight: Lillian McMeekin
As we reach the beginning of March, seniors work harder than ever to finish their portfolios for their projects, internships, and apprenticeships.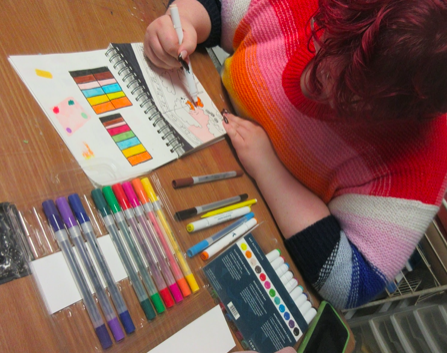 This Friday brings us another spectacular senior spotlight! This week, we'll take a look at Lillian McMeekin's senior project.
Lillian's siblings are all GMC alumni, so she has observed senior projects in varied forms through the perspectives of her siblings.
She chose her topic through consideration of not only her interests, but also of her values. 
McMeekin's project involves writing alongside illustration in the form of her book, which tells the story of Fig, an anxious fox who goes through a journey of self discovery.
Lillian takes her own personal experiences with anxiety and channels them into her storytelling and art. "It's definitely been great to learn about illustration and the process of creating a book because it's something that genuinely interests me, but it's also been incredible to navigate my personal experience with anxiety through this project" (McMeekin). 
She goes on to express that the experience of writing the book is akin to the journey Fig goes on in her story. Senior project teaches students a great deal about not only their chosen topic, but also about themselves in the process. 
She offers valuable advice to anyone going into the senior capstone project. "I know everyone says it, but I can't stress enough that senior project is really what you make it out to be. It can be really difficult and time consuming if you choose a project with a lot of components and requirements, but it can also be a great learning experience depending on what you choose" (McMeekin).
We wish Lillian and Fig all of the luck as they go forward with their project! And we look forward to reading your book! 😉