Emma's Bracket Picks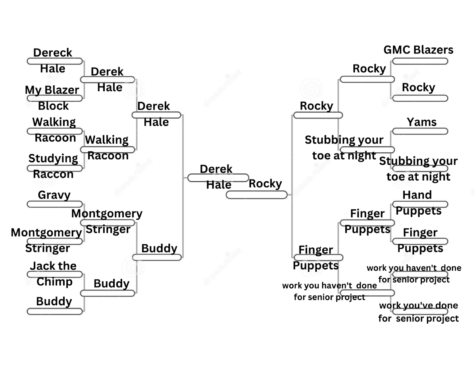 March Madness is approaching quickly. Since I am not interested in the March Madness festivities, I decided to make my own bracket with more unique picks. If you are interested in an actual March Madness bracket, I suggest you check out the one created by our Editor in Chief, Liam Kemp.
Here are a few explanations of my highlighted picks:
Derek Hale v. My Blazer Block
At first glance, My Blazer Block would appear to have the upper hand because of our large number, but that is not the case. Half of My Blazer Block class does not even show up, and Derek Hale is supernatural. There is no debate, Derek Hale takes this round easily.
2. Walking Racoon v. Studying Racoon
Although the Studying Racoon may have a sharp mind, he lacks the physical attribute to win this match-up. Walking Racoon on the other hand has jacked calves from walking all day, every day. Ultimately, Walking Racoon came out on top.
3. Hand Puppets v. Finger Puppets
This was a tough match-up. Hand Puppets are bigger in size, but Finger Puppets have more mobility and number. Finger Puppets take this round.
4. Rocky v. Stubbing Your Toe at Night
Stubbing your toe at night almost took this round. Stubbing your toe at night is painful, annoying, ruins your night, and you never see it coming; however, Rocky has been through his fair share of pain. In the end, Rocky barely wins this round.
5.  Jack the Chimp v. Buddy the Dog
Although these animals are both athletes, this match-up has a clear winner. Buddy the Dog is far more athletically inclined than Jack the Chimp. Buddy plays football, basketball, baseball, soccer, and volleyball. Jack only plays hockey and skateboards. Buddy takes this match-up.